What's Cooking March 4 – 11?
This week conceal your true identity while enjoying a Carnevale-themed menu, be delighted with delectable dishes paired with fine wine or sip on a brew as you devour chowder.
March 5: WINEGRUNT Mardi Gras Masked Ball
Yes, you read it right. This is a MASKED BALL! WINEGRUNT serves up Chef Kevin's Carnevale-themed menu accompanied by guest winemaker, from Avondale Sky Winery, Ben Swetnam's tasting pairings. As your taste buds are taken to the carnival you can listen to Brian Johnston's super cool jazz quintet. Masks can be provided.
More Information: Mardi Gras Masked Ball
March 7: Decadence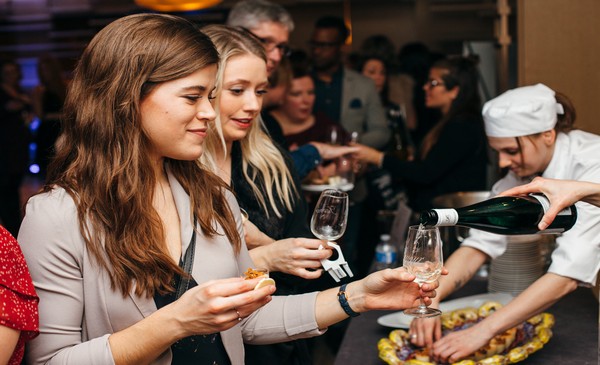 Come for an evening filled with delectable dishes and luscious desserts, paired with fine wines from Nova Scotia and around the world at the Prince George Hotel. Discover how the perfect wine pairings enhance both the sweet and savoury creations crafted by NSCC Culinary Arts students. All dishes are designed and prepared by students of the NSCC Pastry Arts and Culinary Arts programs, under the direction of their chef-instructors; students are on hand to serve and explain the dishes as you enjoy a decadent night out in downtown Halifax.
More Information: Decadence
March 8: Chowder Fridays at Saltbox Brewing Company

Come down Saltbox Brewery on Friday evenings during these cold winter months to have a bowl of chowder and a biscuit, while enjoying a beer and listening to some tunes from local musicians! Food brought to you by Circa 1860 kitchen + public house.
More Information: Chowder Fridays at Saltbox Brewing Company
March 9: Luckett Vineyards at Argyler Lodge

Join Pete Luckett and Chef Jonathan Joseph at the Argyler Lodge for an evening of good cheer, scrumptious food, and exquisite wine from Luckett Vineyards. From wild mushroom dumplings to cider-brined pork chops topped off with a perfect wine pairing… how could this evening get any better?
More information: Luckett at Argyler Lodge
March 9: Rhubarb Restaurant Vodka Fire & Ice Night

This Saturday from 7:00 to 9:00 p.m. the Rhubarb Restaurant will be hosting their Vodka, Fire & Ice night. There will be a deck set-up with an ice bar, back lit by a roaring fire in their fire pit. The evening will feature six local distilleries and include three shots of choice, locally pickled herring and sauerkraut. Oceanstone is offering a special room rate of $85.
More Information: Vodka, Fire & Ice Night
Biscuit Babes Playgroup (Mondays in March) – Come to The Biscuit Eater Cafe and Bookstore with your kiddos age 0-5 on Monday mornings in March from 10:30-11:30 a.m. for the Biscuit Babes Playgroup! There will be songs, stories, snacks and of course the chance to make new friends. Suggested donation of $10 but all are welcome.
5 Course Beer Dinner (March 19) – Garrison Brewing Co. and Agricola Street Brasserie are teaming up to entertain you.  Brewmaster Daniel Girard & Chef Dwayne Macleod will guide 20 guests through a five course meal at the Brasserie accompanied by different, small release Garrison brews.
Demystifying Cool Climate Chardonnay and Riesling (March 23) – Join Planter's Ridge and Sommelier Sarah Blanchard and let them guide you through an approachable educational session on the origins of well known yet complex grape varieties, their heritage in France, beginnings in Nova Scotia and take a look at the climatic influence of both regions.
A Greek Wine Dinner! (March 28) – Get Your Greek On with Obladee, A Wine Bar! With a three-course Greek Wine Dinner! Featuring the wines of Domaine Kalathas & Greece-inspired flavours from Chef Bryan Steiss. Plus, interactive discussion from Sommeliers Heather Rankin & Erin Beazley, and live Mediterranean music.
Flying Apron: Ultimate Local Getaway Package (March 29 – 31) – This Flying Apron package includes: two demo class registrations, dinner on Friday night (in your class), a Meet Your Farmer Dinner on Saturday night, accommodations for two nights, breakfast each morning, and tasting certificates to Meander River Farm & Brewery and Avondale Sky Winery!
Antigonish Craft Beer Festival (March 30) – Announcing the first annual Craft Beer Festival in Antigonish, Nova Scotia. The event will feature 12 top-notch craft brewers from across Nova Scotia and New Brunswick. Attendees will have a chance to sample their products, enjoy live entertainment, and take home a souvenir glass.
Bend & Brunch with the Yoga Hen (April 7) – Enjoy a one-hour yoga session with Holly Ross of The Yoga Hen Adventures in the tranquil winery tasting room at Avondale Sky, followed by a delicious pre-set brunch prepared by Chef Justin Floyd. One non-alcoholic beverage of your choice is included in the ticket price. Mimosas and a selection of wines by the glass will also be available for purchase. This will be a fun-filled morning that will be sure to beat the winter blues!
—
For more of our Taste of Nova Scotia events, news and recipes delivered directly to your inbox, subscribe to our Taste of Nova Scotia emails